Customize Your House Plan to Make it Perfect for You
Plan Modification FAQs
Get answers to common questions below
What is a modification?

A modification is a change to the architectural plan of the house – a 'mod' of the plan you're buying. Don't worry – some customization is almost always part of the process, and we're here to help. Depending on the changes you're considering, edits can be made to the existing plan or the plan might need to be redrawn. Our in-house plan experts and designers can assist you with these edits. Commonly requested modifications include:

Changing windows & doors
Changing ceiling height
Stretching or reducing square footage
Swapping room positions
Adding/removing garage spaces
Reconfiguring outdoor spaces
Changing materials
"Value-engineering" the plan – that is, make it fit into your budget by simplifying complex areas, reducing square footage, etc.

Anything on a plan can be modified. We can answer any questions and provide you with quotes for all desired changes.

Why should I order modifications through Dreamhomesource.com?

Experience! We've been modifying plans for decades and have helped thousands of customers make changes to their home designs.
Speed. Save time in the field later (when your home is actually being built) by taking care of all the changes you want and need now.
Ease. In some areas, it may be hard to find a local designer. Save yourself the hassle of researching and interviewing by going with a trusted name. This way, there's no need to look around.

How much do modifications cost for your house plans?

All you have to do is ask and we'll give you an estimate. (Quotes are free for most plans, but a small number of designs carry a small fee from the designer – this will be credited back to your modification order.) Since each plan is different and each modification request is unique, it's hard to estimate a price without knowing which plan you like and the changes you want to make to it. We can tell you the average cost of a plan modification, in addition to the cost of the PDF or CAD set, ranges from $900 to $1,500.

Why do modifications cost more than the original plan?

There's a lot of time and work that goes into modifications. Pre-drawn house plans are a great deal because the designer creates them once and then can sell them multiple times. (That's how we pass the savings on to you!) But when you have custom changes made, a qualified professional must devote their time to your plan. This can mean carefully redrawing multiple pages of the plan and ensuring that all the details are done right.

Think of it this way: it's like buying a dress or suit off the rack (much cheaper than having one made for you) and then paying a tailor to make tweaks. The professional has to ensure that every stitch, tuck, and hem is finished exactly as you want it, and that takes time. With a house plan, modifications that seem simple often require changes to multiple floors, windows, the roof, and the foundation.

Here's the good news: buying a stock plan and having it modified is still an amazing deal compared to hiring a custom designer or architect to start from scratch. After all, would you rather spend $25,000 for a custom design (which is how much you could end up paying a designer or architect) or around $2,200 for a perfectly modified stock plan?

How long do modifications take?

It depends on your project, but an average timeline is around 4-6 weeks (rush service is available for an additional fee). You're in control here – part of the timeline actually depends on you, and how quickly you respond to the designer doing the work as he or she presents your changes.

Here's the process: first, you request an estimate for changes by clicking on "Modify This Plan" from any plan detail page and filling out the brief form with the changes you want to make, or just call us. Then, we'll be in touch with you to present a quote or gather more information as needed. If you accept the estimate, work on your project begins.

Your modification project starts the minute you place your order. The timeline for receiving your modified plans depends on how quickly you respond to your designer and the scope of the changes involved. Quick changes that don't affect other parts of the plan may only require a brief conversation with a designer and a few hours of design work. Significant modifications involving multiple floors or redesigning major features may require more back-and-forth with your designer and the new drawings may need a few weeks to be finalized. Timeline estimates will be included with your quote. Regardless of your changes, we will customize your plans as efficiently as we can. It's always a good idea to start your modifications as early as you can, so that you'll be totally ready to go when it's time to break ground.

Can I make minor changes to the design and not have to change the house plan drawings?

Some modest changes can be done by your builder without modifying your plan at all. Common small tweaks include changing the garage space or door location, changing interior walls, eliminating or changing windows, and reconfiguring the kitchen. Of course, we're happy to help you with these sorts of changes anyway, so that you can avoid costly change orders and delays in the field.

If my local building codes require some major structural changes, will a stock plan still cost less than an original customized house plan?

Yes. If you're "lucky" enough to live in a place that has earthquakes, hurricanes, or floods, think of the structural modifications this way: Whatever modifications your local building codes require, the additional drawing time to account for these prerequisites is likely comparable, whether you commission an original house plan or modify a stock plan. Let's say your modifications cost $1,000 or so, on top of the plan price: that's still much more economical than hiring a designer to create a custom plan.

Do I need to purchase my plan before having modifications made?

Yes, you will need to buy your house plan in a modifiable format (CAD, PDF, or Reproducible) before having work begin on your modifications. However, feel free to request an estimate for modifications at any time.

If I've already purchased my plan in a non-modifiable format (5-set or 8-set) and then find out I have to modify it, can I avoid buying a new set of plans?

Yes. If your building department mandates changes to your house plan for your permit or for whatever reason you need to modify your drawings - after you've purchased your house plan - don't worry. You don't have to start over and buy a new set of complete house plans. We will give you a credit from your original stock plan purchase towards a modifiable set (CAD, PDF, or Reproducible) of the same house, if it's available. With modifiable plan sets, you also receive a license that permits you to make up to 10 copies of your plan set to complete your house. So you don't have to start over, and you can move forward. To determine the amount of the credit, please contact us at 1-800-447-0027.

What if the foundation option I'm looking for is not available with the house plan I want to buy?

Call us – it's usually doable. Often, changing a foundation type is a very simple matter and can be done during construction without modifying the drawing. If your building department requires drawings that describe the exact foundation you are planning to use, our modification service can design your foundation. You also have the option of purchasing a modifiable set (CAD, PDF, or Reproducible, as available), and hiring a local designer to make the changes for you.

Do you offer custom designed house plans?

Yes. You can build your own uniquely designed home with the expert help of Dreamhomesource.com. Our custom home design service provides extraordinary possibilities, affordably. Save thousands of dollars on architect and design fees when you work with us to create a custom home design with a low, fixed price. Use our team of designers to create a custom home plan in only a few short weeks. We work with you through several design iterations to create your dream home and ensure that it has everything you're looking for. Once you finalize and approve the custom home plan then we provide the construction documents, blueprints, and plans you need to build your own home. To get started, call us at 1-800-447-0027.

Do you offer Additional Services?

Yes, we can provide a number of related services.* To receive more information or a quote for these services, please give us a call at 1-800-447-0027.

Structural Engineering
Plumbing Drawings (Isometric)
HVAC drawing
Plan Check Revisions
CAD file upgrade
3D Renderings
3D Design Services

If a Material List is not available, can you create one?

Yes. If a material list is not available, please give us a call to receive a quote for a new material list. Here's what they typically include:

Foundation
Roofing
Siding
Decking
Windows
Insulation
And much more

* Materials lists are estimates and not a guarantee of all the material needed for each project.
Get the Complete Guide to Plan Modifications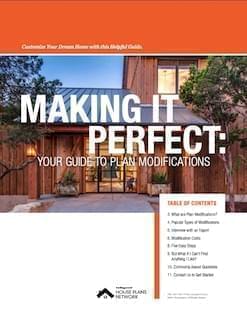 Want even more details?
Download the
complete guide.