By Boyce Thompson.
All but the wealthiest people approach a new-home project with a budget, and house plans are certainly a great way to economize on design without sacrificing quality. But the bigger question is how much it will cost to construct your house. Trained designers and builders can look at a house plan and arrive at a ballpark estimate of construction costs. Most people need some help.
That's why plan companies often provide services that estimate the cost per square foot to build a particular plan in your region. Learn about the Dream Home Source Cost to Build reports (available for every plan on the site) at https://www.dreamhomesource.com/help/ctb.
Importantly, the services allow you to pick the desired finish level for your house. You may want to be as economical as possible on A-Frame House Plansfor a simple vacation getaway home. Or splurge on the house of your dreams from our collection of Luxury House Planswith splendid details.
Cost per square foot data is a great comparison tool. But you need to make certain that you are comparing apples to apples. Cost per square foot may be measured from the inside or outside wall. Measuring from the outside wall includes the cost of insulating the wall cavity, an important consideration in cold climates. You also need to check to see whether unfinished space in the attic, basement, or garage is included. In most cases, it isn't. If it is, it will make the home look like a bargain.
Similarly, cost per square foot calculations don't tell you everything you need to know about what it will cost to build a home. They exclude the cost of the lot, which can vary widely by region. Also, some lots are ready for development. Others need utilities before you can build on them. The slope of the lot will also affect the cost of construction. A steeply sloped lot may require additional excavation and materials. (The service provided by Houseplans.com assumes a lot that slopes no more than 15 percent.)
Nationwide, the average cost per square foot to build a new home ­ excluding land, and only including finished space under roof ­was $105 per square foot in 2016, according to a U.S. Census survey. That means that a 2,400 square foot home cost about $252,000 to build. The figure is much higher in the Northeast ($159) and the West ($129), where labor tends to be more expensive and government fees higher. It¹s less expensive to build homes in the Midwest ($105) and South ($95), where the opposite dynamic is in play.
One big variable in this equation is whether you build a one-story or two-story house. Given the same square footage, a two-story home will be less expensive to build. You'll have a smaller, less complicated roof and foundation. Also, a one-story home may require a wider, deeper, more expensive building lot. A two-story home with bedrooms on the second floor can also produce utility savings, if you routinely turn off the heat and air conditioning during the day.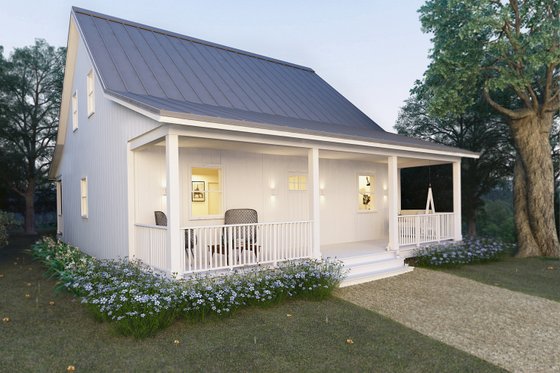 The least expensive homes to build have uninterrupted rectangular footprints, like 497-13above, or relatively simple footprints like 485-4 at the top of this page. Every jog in the foundation or siding slows work and adds expense. The same logic applies to the roofline; every bump out, no matter how attractive, adds cost. Some exterior flourishes – bay windows on Victorians and dormers on Bungalows come immediately to mind – may be essential to producing the style of the home you covet. But others – particularly overwrought rooflines and grand entryways – may add expense without creating aesthetic value.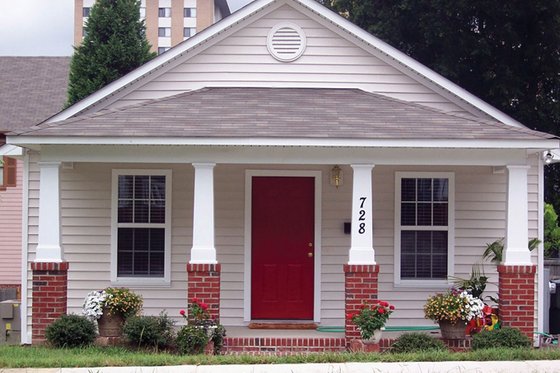 When builders buy house plans, they make sure they optimize livable space. They look for unnecessary space in hallways, entries, and landings. They delete interior walls that aren't essential. Plan 936-24 above makes excellent use of every one of its 1,080 square feet.
Another important question to ask is whether you can live without traditional rooms. Some people may want a big dining room for family gatherings. But for others a large nook off the kitchen and an eat-in island will suffice. Do you really need a dedicated home office, or could a third bedroom do double duty as an office and guest room? The beauty of home Wi-Fi networks is that you can take your work to the best spot in the home, the one with the best view and sunlight.
It's important to think about how rooms borrow space from each other to create the impression of greater square footage. A simple framed opening between the living room and dining room can make both rooms read larger, particularly if the sight line ends in windows with compelling views. Taking down walls between rooms not only saves expense but also results in larger, more livable interior spaces.
The desired finish level for your home will dramatically impact its cost. It's easy to drop an extra $50,000 on a gourmet kitchen with high-end appliances, custom countertops, and exotic floor tiles. Same goes for the bathroom, the other relatively expensive room to build. Many interior finishes increase costs without boosting square footage – fireplaces, lighting, crown molding and specialty trim, window treatment. If you do the work to optimize the size of your home, money may be left over to upgrade materials.
The big wild card is how much unfinished space your home will have. A back porch or deck that borders on the woods may be the reason why you want to build a home in the first place. You may need to get a separate bid for that once your plans are finalized. Unfinished attic or basement space may be great to have later on when you can afford to finish it. Since the walls, roof, and ceiling are already in place, this is a less expensive option than starting from scratch. Plan 928-13 above features a guest apartment over the garage that can be finished now or wait until your budget allows later.
The bottom line is that cost per square foot calculations are great guideposts. But you need to carefully consider their limitations – and your own desires and inclinations – to arrive at the true cost of building your new home. Explore Affordable House Plans to get started.