by Courtney Pittman
The mudroom: also known as that dreadful space in your home (near the entrance you use the most) that is full of coats, shoes, dog toys, umbrellas, and basically anything else you don't have a designated place for. If kept unorganized and cluttered, these areas can become a huge stressor – you can only trip over those random shoes so many times before you want to pull your hair out (am I right?).
See more plans that feature mudrooms.
But fear not! Modern mudrooms (also commonly written as mud room house plans) are becoming a popular trend (hallelujah) in many house designs today and we are welcoming them with open arms. With lots of time spent going in and out of our homes, an attractive transitional location is much needed. These drool-worthy spaces are stylish and filled with smart (and simple) storage solutions that yield a big difference in your daily life. Yes please!
Whether your style is modern, rustic, country, etc. – we've got you covered. These home plans are jam-packed with mudrooms and storage ideas that deliver quick fixes and keep daily annoyances (like clutter galore) at bay.
An open layout (plan929-855) between the main living areas makes entertaining easy, while a mudroom just off the garage features a built-in storage bench (above) and grants homeowners a convenient place to sit and take their shoes off right when they walk in the door.
Storage baskets under the bench provide even more room to store belongings while also allowing the area to feel clean and organized. Hang your coats and bags on the built-in hooks above the bench and revel in the fact that not one thing is on the floor (no more tripping over random items). Score!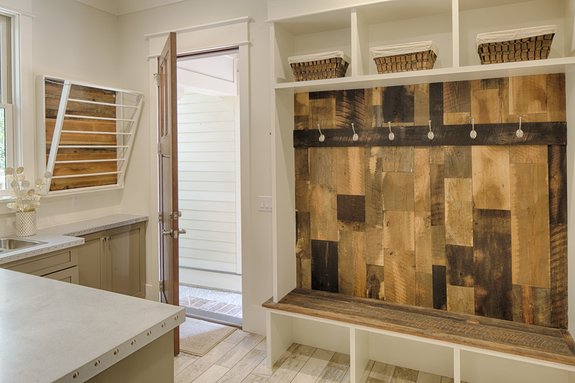 Rustic and cool, this modern laundry/mudroom (plan928-13) has us swooning. Wood details (pictured above) make this space feel warm and inviting, while adding a touch of character. A built-in bench, hooks, and storage slots give things like coats, shoes, umbrellas and everything in-between, a home.
Other highlights in this country-style plan include, a covered patio that unites the living room, dining room, and master suite, with all of them opening to the outdoor space via French doors. The kitchen's layout is made for socializing with room to seat up to six guests.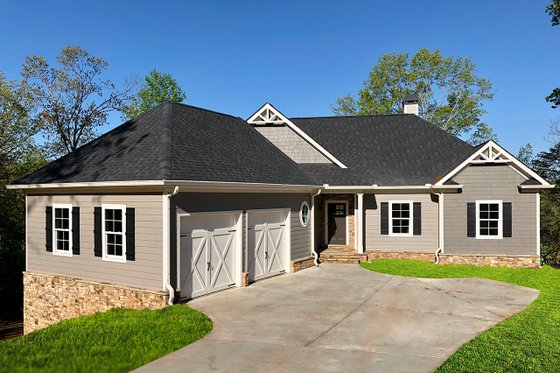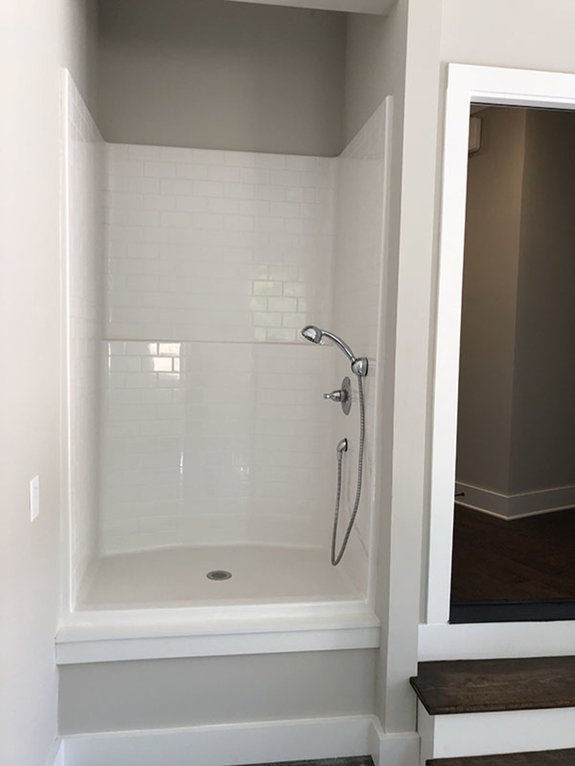 A rinse-off station like the one in plan437-88 (above) is a clean (and cute) way to prevent dirt and mud from being tracked in the house. Whether it's your kids or dog, this shower is a great addition to any garage/mudroom and tackles those messy tasks.
Inside, the open floor plan encourages easy living and family entertainment, while a covered rear porch offers a cozy place to congregate and have evening hangs year-round.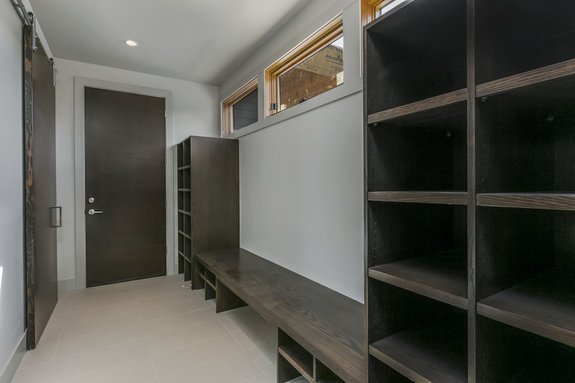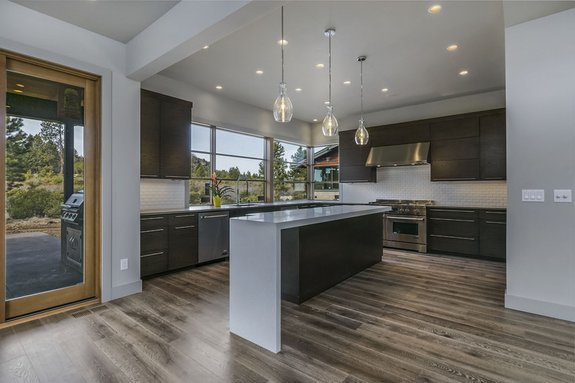 Benches offer ways for even more storage, just take a look at the one in plan892-17(pictured above, top). With storage underneath and along the sides of the bench, this mudroom creates an effortless space that can be easily organized.
Relax and entertain in the easygoing living space and kitchen (above). The open floor plan fosters community and function with easy access to the outdoor covered porch.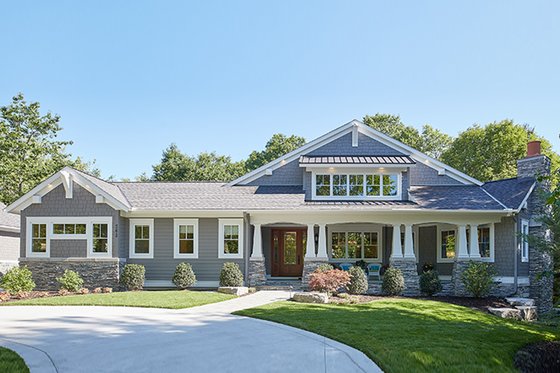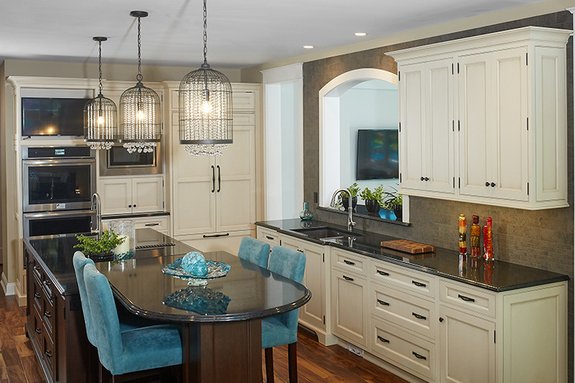 With the kitchen at the center of the home, this Craftsman-style design (plan928-295) presents a remarkably modern layout. The island hosts a variety of activities, with room for four to sit at the connected table, a range so that owners can chat with guests while cooking, and even a veggie-rinsing sink.
Radiating from this main space like spokes on a wheel are the sun-room, the fireplace-warmed living room, and the open dining area. A mudroom just off the garage maximizes storage options and keeps the house clean and tidy.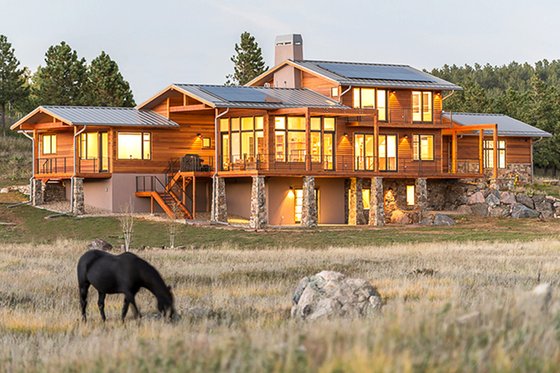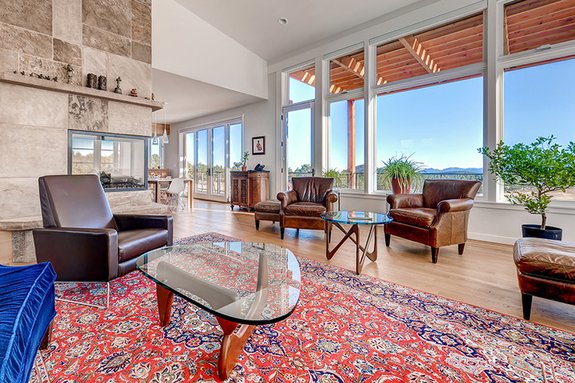 Designed to maximize sweeping views, this home (plan1042-17) spreads out over two stories and a finished walkout basement to give your family plenty of elbow room. The main floor holds the master suite, which treats you to a private deck, luxurious bathroom, and walk-in closet. The study nearby would make a handy nursery, home office, or quiet reading space. In the middle of the home, a three-sided fireplace sheds warmth to both the great room (above) and large dining area. An island adds more prep space in the kitchen.
Near the garage, the well-organized mudroom makes it easy to take dogs on a walk and then rinse muddy paws in the nearby shower. Three bedrooms rest upstairs, while the finished lower level holds a versatile multi-purpose room with a wet bar. You'll also find a full bathroom, the large laundry room, and even a workshop.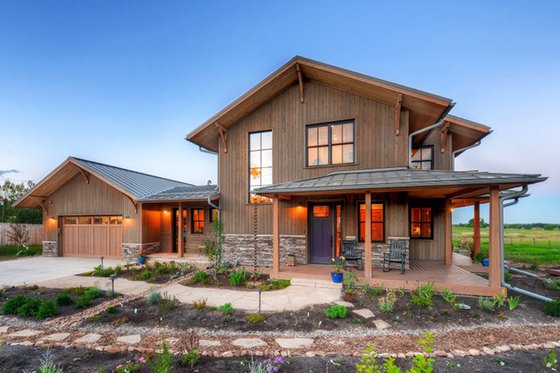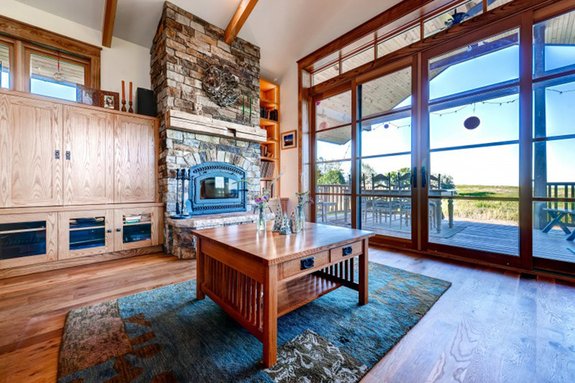 Here's a modern farmhouse(plan1042-18) that embraces outdoor living. Porches stretching around three sides of the home provide abundant room for swings and such, while a balcony connects to both upstairs bedrooms. A wall of sliding doors opens the great room up for a seamless indoor-outdoor flow, with more sliding doors to the dining room making it easy to step out after a meal.
Inside, contemporary details imbue the home with flexibility for all kinds of modern living situations (like the guest bedroom on the main level that connects to a bathroom with a large shower – perfect for an elderly relative). With its door to another porch, the large mudroom makes an excellent starting point for taking a pet on a walk (not to mention easy grocery unloading from the garage).
Upstairs, the master suite displays a spacious bedroom and a bathroom with a separate tub, large shower, and two sinks. A generous amount of windows allow natural light to shine in and brighten up the interior. Don't miss the charming built-in daybed on the landing.
Three bedrooms and three-and-a-half baths are tucked into this country stunner(plan928-299) that offers over 2,800 square feet of pure bliss. We love the front porch and sizable kitchen island that opens to both the dining room and living room.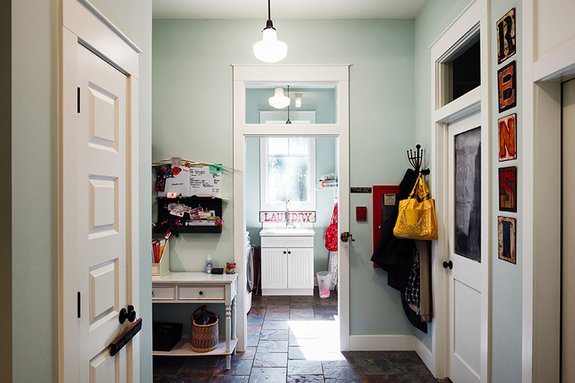 A mudroom (above) just off the garage and laundry room implements functionality and gives homeowners a pretty storage space.
See more plans that feature mudrooms.
See our collection of plans with bonus rooms here.