Basement Ideas
Creative Ideas for Basements
---
Full basement foundations are more expensive and more time-consuming to build than a crawlspace alternative, but can be well worth it. Remodelers report that besides kitchen and bath renovations, finished basements provide the biggest return on homeowners' investments, and you can make it even more worthwhile by planning on a finished basement from the start of your home-building project.
But never mind the long-term financial benefits basements provide. Consider the other ways your basement can pay you back:
Climate
Basements are cooler in the summer and warmer in the winter. Because they are naturally insulated by the earth, you'll spend less on heating and cooling costs and find yourself drawn there on particularly hot or cold days.
Peace and Quiet
If you long for an escape from the hectic comings-and-goings upstairs, get away to the basement. On the other hand, if your children's playroom or your spouse's exercise room makes too much of a racket where it is, move it to the basement and reclaim the quiet upstairs.
More Space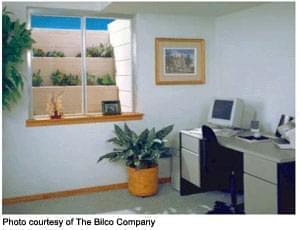 Maybe you were planning on using that extra bedroom as a home office before a new addition to the family created the need for a nursery. With a basement, you could always move the office downstairs. With less and less space available around homes, expanding down is usually a more attractive option than expanding out.
Obviously, we've come a long way since the dark, dreary basement you were probably scared of as a little kid. Because parts or all of basement walls are underground, in the past they were prone to moisture problems. But advancements in moisture prevention have made basements more livable than ever before. As Rich Binsacca writes in Home Planners' book The Home Building Process, waterproofing crews can apply waterproofing membranes that are as thin as 0.6 millimeters made out of a non-flammable asphalt polymer or a solvent-based rubber.
In addition, many effective residential foundation water barrier systems are available. These high-density polyethylenmembrane products are clean and fast to install, and allow homeowners to enjoy the rewards gained from a dry, ready-to-finish basement.
Thanks to these waterproofing techniques, the possibilities for your basement are almost endless - including something as simple as an extra bedroom or as extraordinary as a sauna. But because of the qualities inherent in a finished basement, some rooms are perfectly suited for the space:
Media Room
Since it's quiet and secluded, the basement can be a perfect place to escape and watch a movie in an entertainment room or home theater. If your basement is dark, it can be ideal for a media room - simply install indirect lighting on a dimmer switch for once the show is over. You'll want to take special care with wall and floor coverings, as well as furnishings, to preserve the sound quality.
Activity Room
Whether it's a home workshop for the do-it-yourselfer in the family, an art studio, or a child's playroom, you can find a home for it in the basement. It's easily accessible yet out of the way, and will free up space upstairs.
Laundry Room
Consumers are asking home designers for more and more out of their laundry rooms, and the basement is one spot where it's easy to deliver. It offers space that is usually hard to come by on a house's main level, and easy access to necessary components like water and drainage.
Wine Cellar
There's a reason you've never heard of a "wine attic." The temperate climate of a basement is perfectly suited for storing wine. If you are a connoisseur - or would like to be - think about including a wine cellar in the plans for your new basement.
Rec Room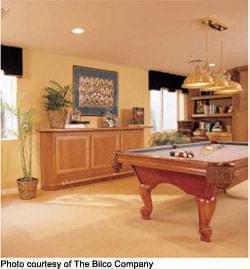 Entertaining can be a blast in a fully outfitted rec room, complete with a pool table or other fun accessories. Decorate however you would like, and have fun with it - homeowners often feel more comfortable taking chances with decorating themes in their basements that they might be hesitant to try upstairs. A walk-out basement can be even more suited for entertaining in warm weather if it opens up to a patio or backyard.
Home Spa
If you want to really indulge - and enjoy the peace and quiet of the basement - consider adding a whirlpool or sauna to your basement.
With all those options, it's no surprise that more and more homeowners are discovering the benefits of basements. As you search for the perfect plan for you, keep the possibility of a full basement in mind if you can - consider it deep thinking.