By Jenny Clark
Selecting the right home plan can mean the difference between romantic walks on the beach and a night in the dog house.** As you're exploring floor plans on Dream Home Source, one of the main things you'll want to consider is...SPACE! Space is like water: can't have too much; can't have too little. For instance, if you live in Los Angeles and your spouse (for whatever reason) lives in Paris, that large physical distance can be a strain on your relationship. On the other hand, if you and your spouse live in the same house together—one that features a tiny kitchen and tiny closets—the idea of having an ocean separating the two of you might sound pretty good after a while.
Bottom line: marriage is hard. Below are five home plans that may make married life a little easier.
NOTE: You can also visit our New House Plans collection which features layouts and amenities that suit modern lifestyles.
1: Farmhouse House Plan 120-258
What makes this home plan divorce-proof?
See those two big, beautiful closets in the master suite? Those closets are so large that they feature windows! Who has closets that are that big? I'll tell you who: happily married couples.
---
Also, take note of the master bathroom's dual vanities. Wouldn't it be nice to get ready for work in the morning and NOT have to fight over counter space?
---
And check out the large master shower that would be perfect for…you know…steamy mornings.
---
The kitchen is also open and airy enough for two people to move around in. What's more, there's an outdoor BBQ. Therefore, if the idea of having two cooks in the kitchen (no matter how much space is available) makes you cringe, one chef can do his or her part inside, while the other whips something up on the outdoor BBQ.
---
Finally, check out the powder room on the main level. It's always smart to have a bathroom associated with each bedroom and a powder room on the main level. Why? Because then the powder room can be the designated "emergency loo" that both you and your spouse agree to rarely use, and, thereby, keep clean. For instance, have you ever been in your house—minding your own business—when suddenly a neighbor pops in for a chat? It starts out fun at first—"Oh, hey! My neighbor! Isn't it nice they dropped by for a visit!" But then, thirty or so minutes later as the chat ends, the neighbor asks to use your bathroom….and terror erupts in your chest as you realize the only bathroom available has a dirty sink and mirror, at least one wad of hair sitting on the corner of the tub, an array of abandoned, halfway inside-out discarded clothes, and a frying pan (because the next time that cheeky spider runs over your bare foot as you're trying to pee in the middle of the night, by God, he's gonna GET IT!) Instead of making up a crazy excuse, like, "Umm…I don't have a bathroom?" or suffering the embarrassment and then yelling at our spouse about it later, make life easier by selecting a house plan that offers a bathroom for each bedroom and a main-level powder room!
2: Farmhouse home plan 430-185
This design is all about storage. Splendidly sweet storage! Check out elements of the plan, such as...
The closets - Note the two spacious walk-in closets in the master suite. If your husband is a clothes horse and you're a shoe-aholic, this design could bring great happiness to your marriage.
---
The pantry - Look at that pantry. Like, whoa... It. Is. Huge. If your wife is an amateur (or professional) chef, having extra space in the pantry to store ingredients is a huge plus, as it will give you more room for glasses and dishware in the kitchen cabinets.
---
The laundry room - In addition to the standard washer and dryer, this home plan's laundry room offers space for a sink, a broom closet, and an extra refrigerator. If your husband enjoys stocking up on specific refrigerated goods—be it soda, beer, or baby carrots—this plan will let him do so without taking over the main refrigerator.
---
The mudroom – The mudroom sits adjacent from the powder room and features a closet and lockers. Organized mudrooms like this are especially good to have if your spouse is obsessed with keeping the carpet and/or hardwood floors perfectly clean, as they create a space in which you can store wet or dirty boots and coats before entering the main living spaces.
---
The garage – This plan's garage offers room for three cars, plus extra storage and a work bench area. If you've ever had a significant other who loves cars, car toys, and car tools, you'll understand the importance of having extra space in the garage.
3: Modern farmhouse plan 569-37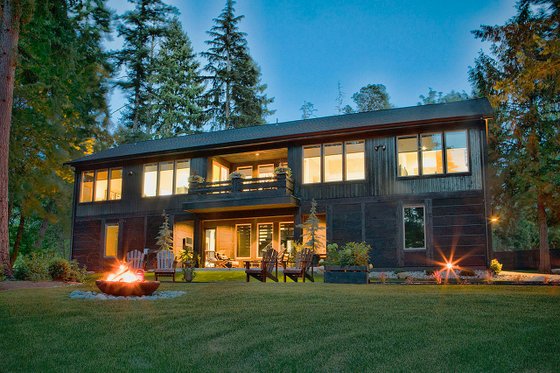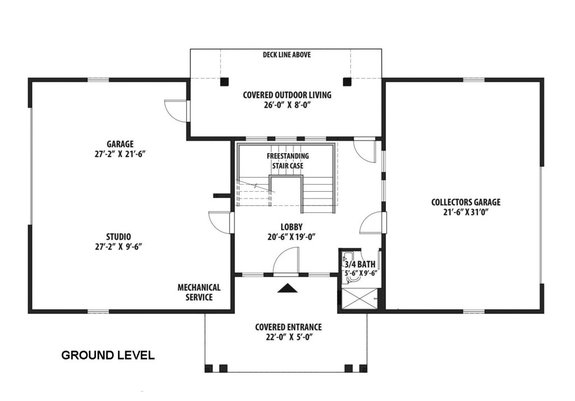 This floor plan features room for six cars. No, that's not a typo. We actually meant to say: six cars. This is the type of house plan you should consider if your husband or wife is dedicated to a hobby or work-from-home profession that requires a great deal of storage. For instance, if your wife buys, sells, and/or collects cars or other automobile-like things, such as jet skis, motorcycles, or anything else that can be properly stored in a garage, she's going to need a design like this.
4: Log style home plan 928-263
Have a partner that snores? First, my condolences. Second, let me introduce you to home plan 928-263. This design features a magnificent amenity known as "a snore room" (on the main level floor plan above, this area is noted as a "Study.") Ultimately, it's just a room that connects to the master suite. If you have a snoring spouse, this can be their nightly place of exile. If you have a new baby, this can be the nursery. If you enjoy a good book, it can be used as a study. And so on.
5: Cottage plan 497-13
While not having enough space can definitely start arguments, having too much can also be a problem. For instance, have you ever had an argument with your spouse that goes something like this?
"The furniture in the upstairs bedroom is dusty. Why haven't you cleaned it?"
"No one ever goes into that bedroom. Who cares if it's dusty?"
"I care. I care!!!"
Having an extra bedroom for guests or as a home office is usually a smart idea. On the other hand, if you know you only need one, maybe two bedrooms, selecting a 5 bedroom floor plan may not be the best choice. Sure, it's big and pretty, but will you really want to buy furniture for and clean those extra rooms? Probably not. So, consider this as you shop. If you are looking for a small-ish design, house plan 497-13 could be your best bet. It's only 1,616 square feet, and yet it manages to offer an open floor plan, an extra bedroom for guests, a study (which could also be a home office or den), and a cute front and rear porch.
You know what every plan featured in this blog has in common? CURB APPEAL! Curb appeal is another factor that can totally bring people together. If you and your special honey build your dream home and it becomes the most stunning house on the block, guess what? That's something the two of you can smile about forever.
Click here to browse our newest house plans that feature layouts and amenities that suit modern lifestyles.
** Disclaimer: This blog is simply a good-humored attempt to show how selecting the right home plan can make married life easier. No one thing (including the perfect floor plan) can make or break a marriage!