By Courtney Pittman
The holiday season is upon us and you know what that means – it's all about the kitchen. Whether you're cooking up a yummy meal, entertaining guests, or just hanging with family, the kitchen is (usually) the heart of the home – especially during the holidays. This is where memories are made. Thanks to modern amenities like large kitchen islands and bar seating, friends and family are encouraged to sit down and stay awhile. Other cool features you will find in modern kitchen home plan designs are walk-in pantries, plenty of counter space, cozy breakfast nooks, and dramatic dining areas. Everyone's making kitchen trend predictions for 2020 - check out this one from Country Living.
Click here to explore our collection of ultimate kitchen house plans.
Key Features in Ultimate Kitchen Plans:
Large central island
Walk-in pantry
Lots of counter space
Open to the main living areas
Clean lines/clutter-free
Snack bar
Let's look at some house plans that sport ultimate kitchens and will get you ready for the holidays in no time!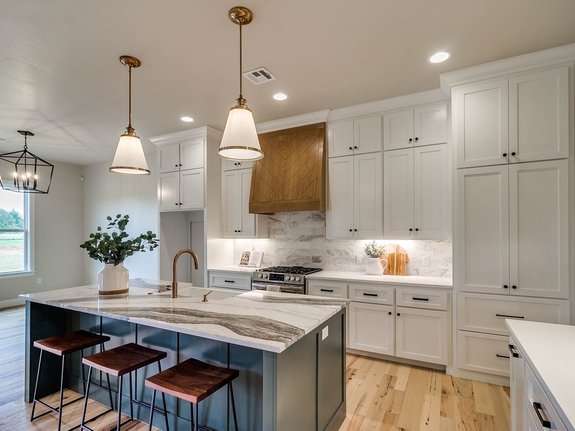 Plan1067-1
Here's an exclusive farmhouse design that we just can't get enough of. Take a look at the big island kitchen (perfect for holiday hosting), the relaxing master bath, the well-organized mudroom...well, just look at all of it. It's a beauty! See plan 1067-1 online.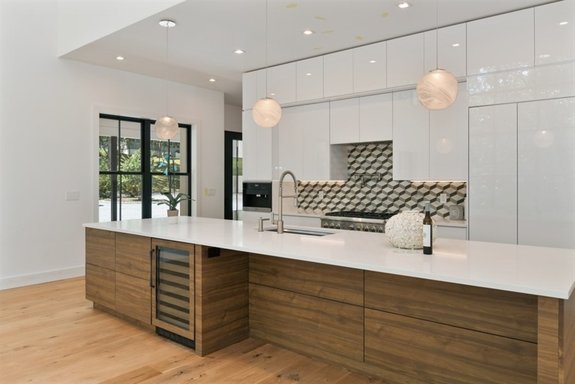 Plan888-15
Clean and open, this 3,374 square-foot modern farmhouse design feels fresh and contemporary. Entertaining is made easy with a large kitchen island opening to the great room and dining area, while tons of cabinets keep things tidy. Nice weather? Deep porches run the length of the house on two sides for easy indoor-outdoor living. Don't miss the Loft-office over the kitchen island! See plan 888-15 online.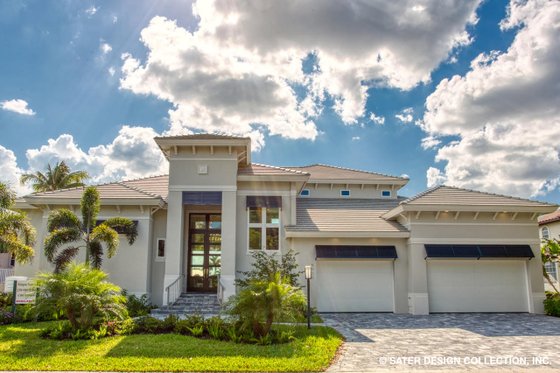 Plan930-504
Ready for holiday parties? This house plan certainly is, with a guest suite upstairs for in-laws and visitors. Meanwhile, you get an ultra-luxurious master suite that showcases a spa-like bathroom. The modern kitchen sports an island, plenty of counter space, and opens to the dining area and large great room. An outdoor kitchen makes it easy to enjoy year-round outdoor living. See plan 21-456 online.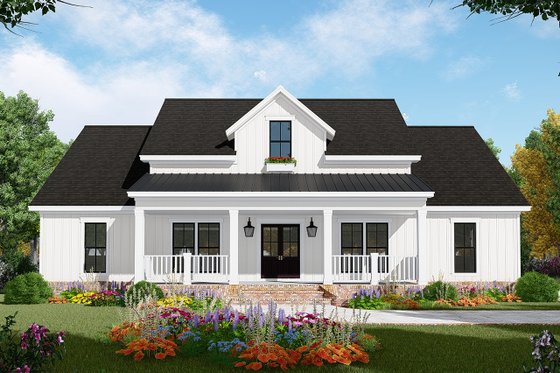 Plan21-456
Open and modern, this layout flows from the great room into the island kitchen and dining area, then out to the back covered porch. Highlights include extra storage off the carport, a big walk-in shower for the master, and many closets. See plan 21-456 online.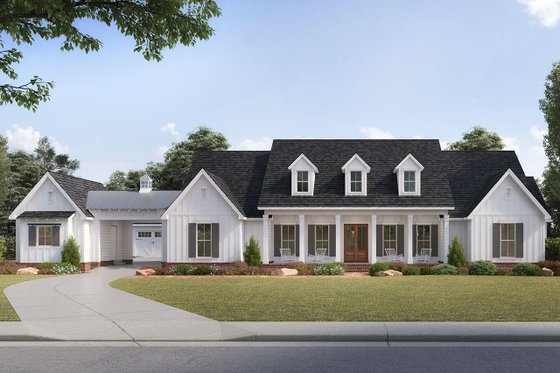 Plan1074-3
Here's a one-story layout filled with upscale amenities, including tons of storage (check out the big walk-in pantry near the island kitchen), relaxing outdoor living, and a luxurious master suite. The great room flows out to the back porch. See plan 1074-3 online.
[935-17 kitchen] Plan935-17
This gorgeous, brand-new design shows off open living spaces and a luxurious master suite. Unique and thoughtful details include see-through fireplaces in both the living room and the master suite, a private "owner's courtyard," and a bar. The spacious kitchen boasts a large island, cozy nook, and opens to a sweet bar area (perfect for the holidays!). See plan 935-17 online.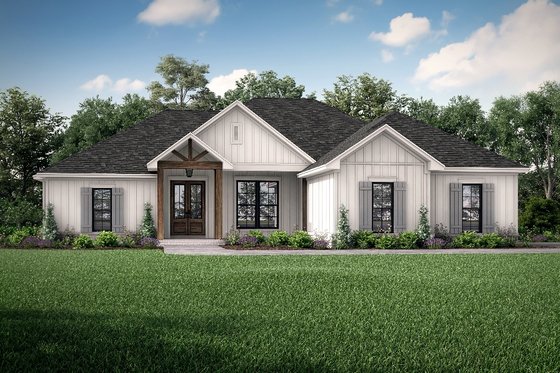 Plan430-207
How open do you want to go? Very, very open? Then this 1,850-square-foot farmhouse ranch might be the one for you. The kitchen's island overlooks everything for easy entertaining. Note that every bedroom has a walk-in closet. See plan 430-207 online.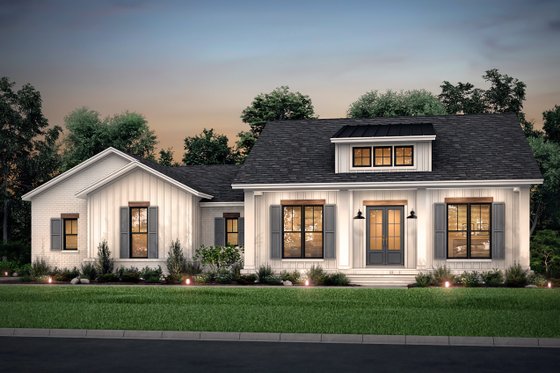 Plan430-208
Bold curb appeal makes this modern farmhouse stand out, from the metal roof accent on the dormer to large windows and a wide, welcoming porch. The open layout presents you with 2,044 square feet of living space. Sleek and open, the kitchen boasts a large central island (with a snack bar) and a huge walk-in pantry. See plan 430-208 online.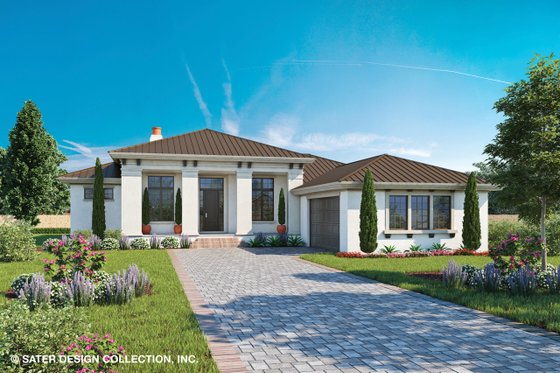 Plan930-500
French doors abound in this elegant one-story home, with multiple sets opening to the veranda from the great room, master suite, and even one of the guest bedrooms. Other highlights include the open island kitchen and extra storage in the garage. Don't miss the master suite's spa-like bath. See plan930-500 online.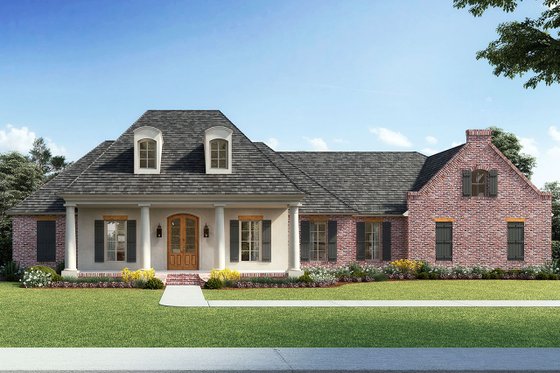 Plan1074-2
Choose your spot in which to relax: the kitchen's big island (perfect for snacks and holiday socializing), the family room with its fireplace, or out on the rear porch near the outdoor fireplace. A bonus room sits upstairs. See plan 1074-2 online.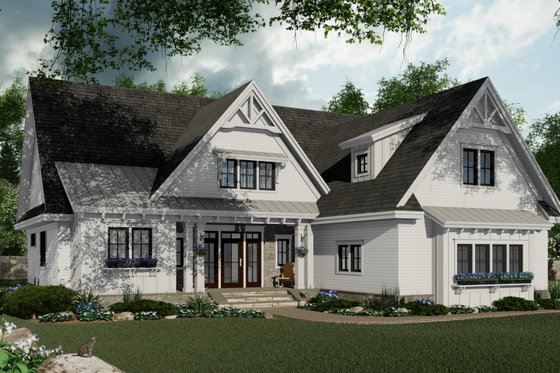 Plan51-1151
This new design gives you an open layout with 2,046 square feet of living space, plus room to expand upstairs with a bonus space. Want a big kitchen island? This one can seat five people, making it the holiday party zone. See plan 51-1151 online.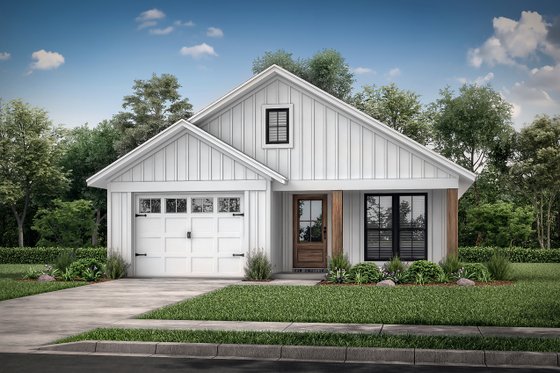 Plan
This budget-friendly farmhouse plan does quite a bit with 1,292 square feet. The open layout makes it easy to see into the living room from the kitchen (and entertain friends and family), which includes a walk-in pantry. The master suite features a private bathroom. See plan 430-206 online.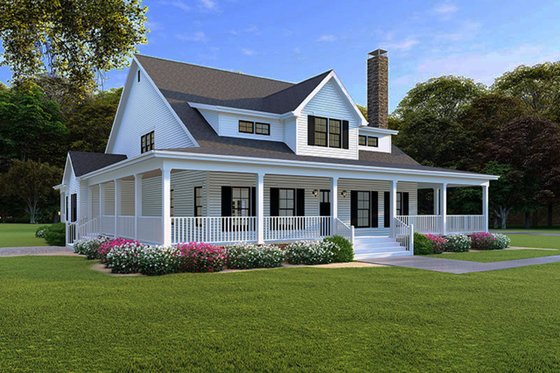 Plan923-108
This welcoming home is all about relaxed outdoor living, from the generous wraparound porch to the back grilling porch with an outdoor kitchen. Inside, the kitchen sits at the center of everything, making it natural to host low-key holiday gatherings. See plan 923-108 online.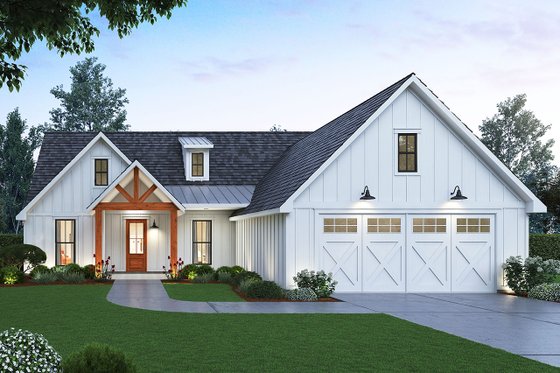 Plan1074-1
Want a one-story open layout with many well-thought-out amenities? Explore this new design. The living room flows over to the island kitchen (which sports a walk-in pantry) and out to the spacious back porch, which connects to the hallway near the master suite for easy access. Take a look at the big master closet! See plan 1074-1 online.
Browse ultimate kitchen house plans
Explore home plan designs with open layouts