House Plans with Courtyards have always been popular in the warmest climates. But about a decade ago they started to move north, showing up in new-home communities in temperate climates. Courtyard plans have only gained in popularity since then, based on several recent newspaper articles, industry show homes, and my visits to dozens of new-home communities each year. Courtyards are a great way to integrate outdoor space into your home's footprint, a more aesthetically pleasing alternative than tacking on a deck or patio in back.
When courtyard plans first resurfaced in the mid-2000s, Builder magazine did focus group research with homeowners to find out whether they were a keeper. We half-expected the research participants to dismiss them as a passing fad. Instead, the research unearthed a desire for multiple outdoor refuges – a place off the kitchen to drink morning coffee, an enclosure off the bathroom to practice yoga or take an outdoor shower, and of course a big courtyard in back for parties or evening cocktails.
House Plans with Courtyards have only gained in popularity since then. Initially a response to climate conditions – a way to create shelter from ocean winds or dust storms – their use now transcends environmental concerns. When visible and accessible from major public rooms of the house, a courtyard provides "a natural focal point and natural privacy," says Austin-based architect Janet Hobbs, who specializes in the plans, including 935-14 at the top of this page. Privacy is key. Enclosing the courtyard with three walls limits views to one neighboring home in back, and tall trees and a fence can take care of that.
Another reason to consider a courtyard home; they afford a better opportunity to enjoy the architecture of your home. Sitting in the courtyard provides a three-sided view of the stone, wood, and metal used to construct your house. And, you can enjoy similar views from inside the home, assuming the design incorporates an appropriate amount of glass in the right places. Those kinds of views aren't available in the typical rectangular home with a straight-line foundation in the back.
That said, courtyard homes aren't inexpensive to build. The form of the home must be carved up into an L- or C-shape. That means you will have more perimeter walls to finish and insulate, and exterior materials are more expensive than sheetrock used indoors. "It also complicates the roof, of course," says Hobbs. "But that's part of what makes it beautiful."
A typical courtyard house would be built in three sections, each only room deep so that it's easy for light and breezes to enter from two directions. That just makes a room feel better. The configuration also makes for great party circulation, especially when key rooms – the great room, dining room, and kitchen in particular – open to the outdoors. Most rooms in 935-5designed by Hobbs provide access to a courtyard with an outdoor living room and a large pool.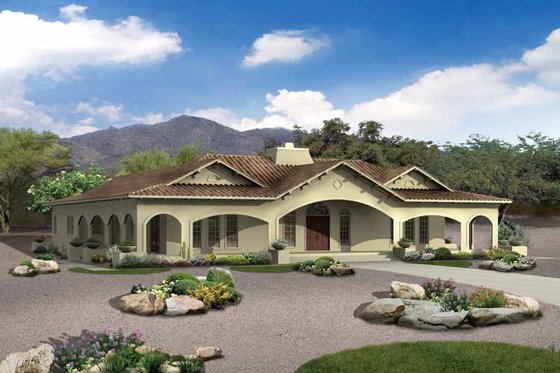 Another advantage to a courtyard plan is easy access to outdoor spaces from bedrooms. 72-177surrounds a central courtyard that opens to a sheltered arbor. Both the master suite and the guest suite open to this covered, shady hangout, which would fit well into a southwestern or Texas location.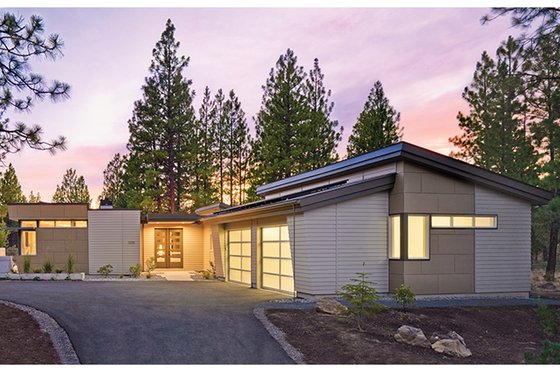 With a more modern exterior, 892-8draws all eyes. The courtyard sits in back and is mostly surrounded by the home.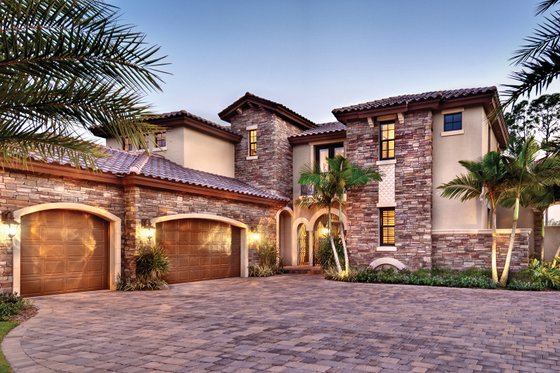 Courtyards don't always have to be in the back of the house, of course. 930-21 from the Sater Design Collection features a spacious side courtyard and a separate guest suite and fireplace-warmed "casita".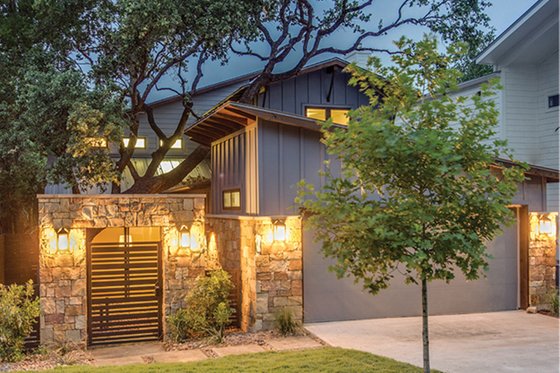 This additional plan by Janet Hobbs, 935-7 moves the courtyard to the front of the house, a common configuration in the Southwest. A gated stone wall and side fence provide privacy from the street and from neighbors. The courtyard connects to the front door and the dining room, making it an ideal space to spend late afternoons and evenings. The plan is suited for a smaller lot in an urban location. The living room connects to a second outdoor space, a private deck in back.
Explore House Plans with Courtyards and find your relaxing retreat.