by Courtney Pittman
Determining the ideal home size for you and your family can be a strenuous task. There are a myriad of things to take into consideration – budget, building costs, resale value, how the space will be used, etc. So, the question of the day is, what home size is suitable for you?
The optimal home size can depend on a multitude of factors such as personal taste and lifestyle. Smaller homes tend to be more cost-effective, while larger homes offer more bedrooms, bonus rooms, and ample living spaces.
Small vs Big
We recently did a poll on our social media page asking our audience what home size they prefer. The vast majority of people elected for a home between 1,900 square feet - 2,300 square feet rather than a smaller-sized one (1,300 square feet – 1,800 square feet).
This doesn't necessarily mean that vast dwellings are superior to modest sized homes – there are benefits to both.
One perk of living in a larger home is that rooms are able to have a designated purpose. Everything has a place.
Dining rooms are meant for eating in, offices are meant to work in, play rooms are meant to be played in, and bedrooms are meant to be slept in. If size permits, you could even have leftover spaces that aren't being used…yet. These may come in handy as your family grows, jobs change, new hobbies arise, etc.
Another advantage of a bigger home is, "You have ample room for family/guests," says our director of sales, Matt Clancy.
Whether you are having friends or family members stay with you for the weekend, it is beneficial to have the option of granting them a bedroom to sleep in rather than a couch in the middle of the living room.
Other things to consider when building a substantial-sized home is the constant upkeep. The more space you have, the more room for things to break, for more upgrades, for extra cleaning, and other added expenses. A smaller home is typically less maintenance in the long run.
When it comes to smaller dwellings, they are generally less costly and easier to keep up with all around – resulting in more savings. Likewise, remodeling costs are lower as well (hello new granite counter tops!).
A smaller house potentially means you can keep the clutter to a minimum. Less room means less stuff!
Build-ability vs Budget
One thing to consider when selecting the right sized home is your budget and build-ability.
Clancy reminds homeowners to ask themselves, "Can you afford to build the house?" Additional and unexpected costs may arise, so be sure to leave room in your budget.
A good rule of thumb is to have a contractor grant you a price breakdown so you are able to determine your budget – with room for setbacks that may arise.
A larger home costs more to build. That's just a fact. It requires more land and more materials, which require more money. If you choose the right design, smaller square footage can still deliver most of the features that you want while fitting within the budget that you've got.
For example, maybe you cut back on the size of the master bedroom so you are able to gain that third bedroom you needed. Need to trim even more square footage to stay in budget? Consider choosing a layout with flexible outdoor space (more affordable to build than enclosed square footage) that can be used for extra living space when weather is nice.
Try to avoid wasted spaces (such as long hallways or single-use rooms that won't get much use, such as a formal dining room) when selecting a home to build. These spaces can take up square footage that you could use elsewhere. Who wants to pay for that?
I asked Nick Lee of Nick Lee Architecture see some of his designs here what the most wasted space is in a home and he said, "Well, now I think the standard answer that most people would give is the separate dining room. I do agree with this but also think of the spaces that people really want rather than what they don't want. People want a place for different activities, and also for their things. The want to feel connected to others in the house, but also want places for privacy."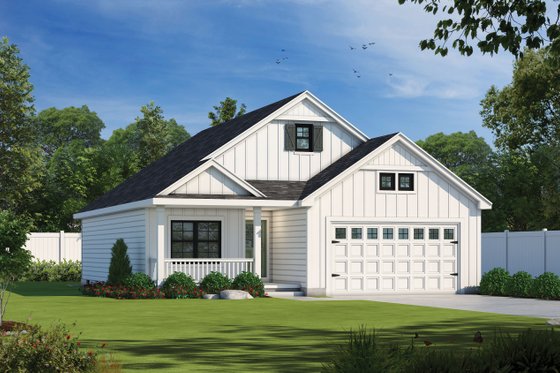 Explore our Affordable House Plans here.
Resale Value
Size matters when it comes to the resale value of your home. Examine the location and community you are building in.
Is it family-friendly? Or is it downtown and filled with young couples? If you plan on selling your property eventually, these are questions to ask yourself when selecting a floor plan size to build.
Potential buyers in a family-friendly area will most likely prefer a greater sized home to accommodate their needs. Singles and young couples will probably wish to have a smaller space with less maintenance, upkeep, and cleaning.
Layout is another detail to take into account when it comes to resale. Number of bedrooms, open floor plans, and size of rooms can all influence a home's value.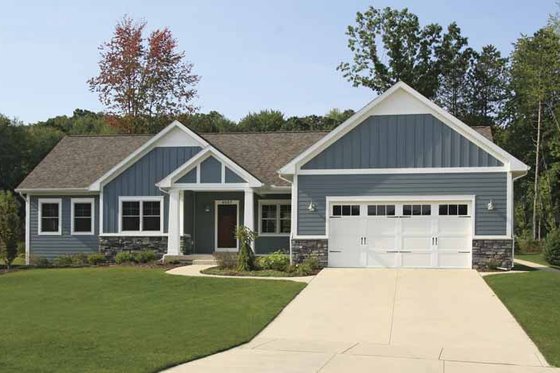 Plan 928-164 (above) offers a flexible layout for a family with older kids. With the master suite downstairs, this allows for needed privacy between floors. A covered deck serves as a flex space.
Lifestyle
Determining how much space you need can depend on your lifestyle. Do you host and entertain regularly? Do you prefer to lay low and stay in? Do family and friends stay with you often?
All of these factors need to be taken into consideration when deciding a home size that will fit your needs.
If you can't decide on a specific square footage you can instead try, "Really making sure that you have the right spaces. Often people think bigger is better for rooms but this is not always the case," says Lee.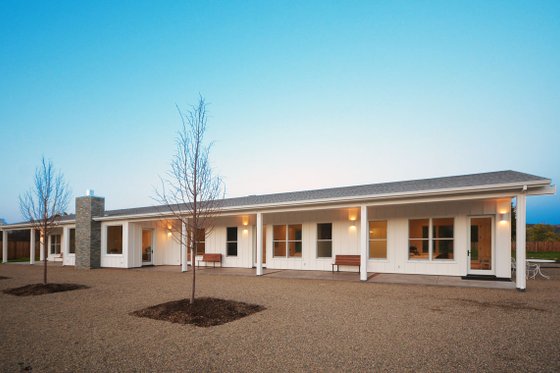 Plan 888-8 (above) offers a malleable layout. While the master suite is located to the right of the kitchen and main living areas, the extra bedrooms are on the complete opposite end. This allows for extra privacy for both the homeowner and guests (or kids). The home theater could also serve as an office or third bedroom depending on your needs.
Think About the Future
Will this be your forever home? If so, keep your future in mind. Do you plan on having kids and need extra room for them? Or will your children be flying from the nest soon and downsizing makes more sense? Maybe you just need a sizable home for you and your dogs.
These components will influence your home size – be sure to ponder them before selecting a plan.
"If this is your forever home, make sure there are not a lot of stairs and tight places," notes Clancy.
As you get older these small details may become a frustration down the road. Each homeowner is different with their own unique lifestyle. With that said, the question remains – how much house is suitable for you?
Browse our Affordable House Plans here.
Click to explore our Luxury House Plans here.
For Empty Nest House Plans click here.