By Courtney Pittman
Ready to buy your dream house plan but can't find the perfect one that meets your specific needs? Good news! Our in-house experts and designers can assist you with all kinds of plan modifications. Whether you're looking to swap room positions or reduce the square footage, we've got you covered. Almost anything on a plan can be modified. Questions about the modification process? Check out our modification guide or give our helpful team a call at 1-800-447-0027.
Click here to view our modification guide or give us a call at 1-800-447-0027 today.
With tons of architectural styles to choose from (farmhouse plans, modern designs, Craftsman floor plans, and many more) you are sure to find your dream home plan (and add modifications if needed). This article is full of tips and tricks that will help you customize the home of your dreams – let's get started!
What is a modification?
A modification is a change in the architectural plan of the house. Depending on the scope of the changes, edits can be made to the existing plan or the plan may need to be redrawn. Our in-house experts and designers can assist you with these edits.
Commonly requested modifications include changing windows and doors, changing ceiling height, stretching or reducing the square footage, swapping room positions, adding/removing garage spaces, re-configuring outdoor spaces, and changing materials.
How long do modifications take?
The timeline for receiving your modified plans depends on how quickly you respond to your designer and the scope of the changes involved. Quick changes that don't affect other parts of the plan may simply require a brief conversation with a designer and a few hours of design work.
Significant modifications (like redesigning major features or involving multiple floors) may require more back-and-forth with your designer and the new drawings may need a few weeks to be finalized. Timeline estimates will be included with your quote. Regardless of your changes, we will customize your plan as efficiently as we can.
How much do modifications cost?
Modification pricing varies depending on the size of your home plan and the complexity of the design. Since each house plan is different and each modification request is unique, it is hard to give a price without knowing which plan you like and the changes you want to make to it.
We can tell you the average cost of modifications (in addition to the cost of the plan set, which will have to be a modifiable version such as a PDF or CAD file) is between $900 - $1500. If that sounds like a lot, remember that you're essentially receiving a custom house for much less than a designer or architect will typically charge.
Why do modifications cost more than the original plan?
When a plan is modified, an architect or designer must take their time to alter the plan. Often modifications that seem simple will require changes to multiple floors, windows and the roof and foundation. In the end, starting with a $1,000 plan (that could cost $25,000 if you engaged the architect in a traditional relationship) plus $2,000 to significantly modify the plan to make it perfect for you and your site still represents a huge savings in both money and time.
Custom Designed House Plans
Did you know you can build your own uniquely designed home with the help of our in-house experts? Our custom home design service provides extraordinary possibilities, affordably. Save thousands of dollars on design fees when you work with us to create a custom home design with a low, fixed price. Use our team of designers to create a custom home plan just for you.
It all begins with a plan. Check out these cool house plan designs and get inspired! Who knows, maybe you'll find your dream home today.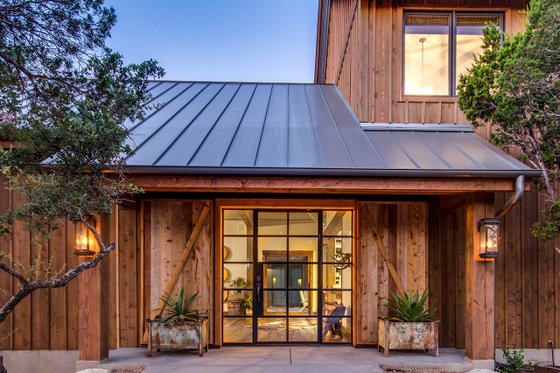 Plan 935-17
Step inside this brand-new layout, which offers excellent flow and a relaxed vibe. This house plan is all about style and convenience with a living room that opens completely to the dining area and island kitchen. A stunning wall of windows (above) delivers plenty of natural light and makes the gathering spaces feel bright and open, while a large fireplace delivers comfort and warmth.
Other highlights we love: the generous master closet that connects to both the laundry room and mudroom, the fireplace-warmed master suite, and the cool bar area between the dining space and kitchen. Don't miss the outdoor shower just off the master suite! See plan 935-17 online.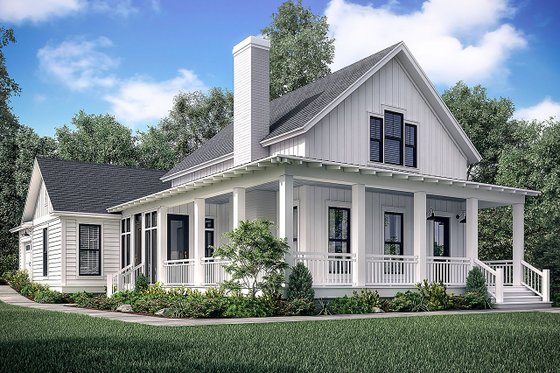 Plan1067-5
This brand-new home design is an exclusive one, so you know you're getting something special. The porch steals the show, wrapping around the front and side of the home, and even including a screened portion for extra protection on a sunny day (or when the insects are out!).
Inside, an easygoing flow promotes community and makes getting around a piece of cake. Don't miss the dual closets in the spacious master suite. See plan 1067-5 online.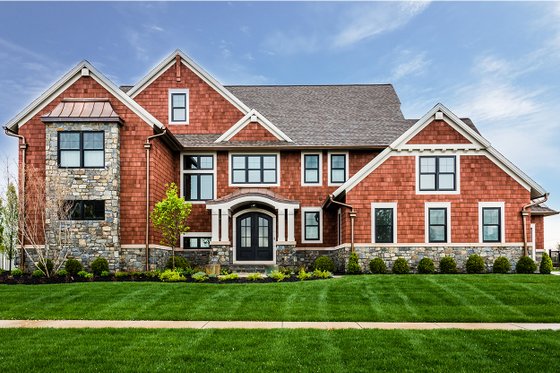 Plan928-321
The Broadmoore (an exclusive plan from Visbeen Architects) will draw all eyes to its grand exterior. Inside, the open layout feels fresh and contemporary. The kitchen sports two islands (one for guests, one for you) and flows into the dining and living areas. A screened porch features an outdoor fireplace and keeps the bugs at bay.
The main-level master boasts an extra-large bathroom. Upstairs you will find three additional bedrooms, three bathrooms, a home office, and a loft space. See plan 928-321 online.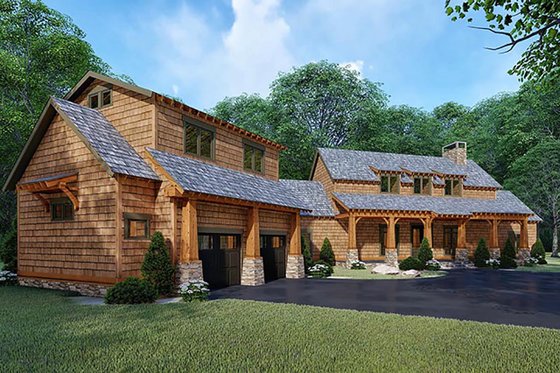 Plan923-127
Want a spacious plan that's as open as possible? This might be the floor plan for you. Front and back porches encourage outdoor fun, while the central gathering areas flow without interruption from the island kitchen to the dining area and great room. Check out the cool screened porch that features a grilling kitchen and fireplace. See plan 923-127 online.
Check out our modification guide here.
Explore our most popular house plans.
Plan on building your dream home but don't know where to start? We've got you covered. Download our beginner's guide today.